Baby Journal: First Ultrasound & Belly Shot
It's a horrible scan, but you can still see the little bean in there. They dated the pregnancy today too. The official due date is December 17, 2008.
Say hello, world! That black dot over to the left is it at 0.364cm big (roughly the size of an apple seed). I have another ultrasound appointment in 2 weeks which will probably give off a better picture with more development. But either way, here's our little bean: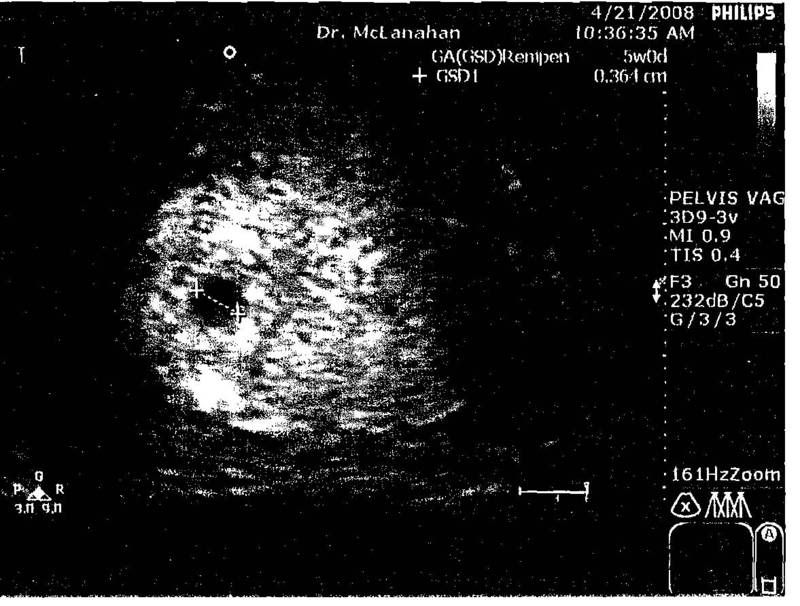 EDIT: I figured I'd also include a belly shot to go with these ultrasound pictures. I want to remember how I measured up on the outside with how the babe was growing on the inside. So here is my very not pregnant looking (yet!) belly:
Posted at 11:29 am by Candy
Melly


April 22, 2008 10:03 AM PDT



i read from bottom to top and i was only a day off in my estimation on your due date from what they gave you. god im good. hehe.
Deirdre


April 21, 2008 02:56 PM PDT



Congratulations!
Jaime


April 21, 2008 12:37 PM PDT



Oh, I'm so jealous you already had your ultrasound!! lol! I'm so excited that we get to go through this whole thing together!!