---
ORGANIZATIONS

La Leche League



Peaceful Parenting



Intact America



Mothering Magazine



Job Description: Mommy Blog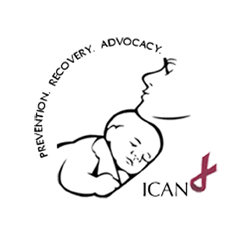 International Cesarean Awareness Network


Bring Birth Home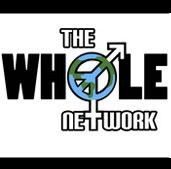 The Whole Network

---


Feel free to link this blog!





---


Baby Capricorn
The Capricorn child may be born looking like an old soul. This physical attribute will shift as the baby finds its childhood bearing, but the presence of an "old soul" will be apparent throughout life. There is a serious nature about Capricorn and a great determination to succeed. This personality trait will be become apparent as the child learns to walk and take care of its own basic needs (dressing, potty training, etc.). Parents may find this impressive focus "adorable," but it is important not to minimize the seriousness Capricorn children bring to these tasks. They tend to set ambitious goals and meet them when they are encouraged to be true to themselves.

Capricorns may have pronounced foreheads and remarkable eyes. As children, they do not readily participate in frivolous games and activities, preferring to learn and apply their knowledge to acquire greater skill. Games like chess may be preferred. Capricorn children will treasure the parent who teaches them practical skills. There is also a great respect for manner and tradition in this personality. Your child may show an interest in older cultures such as Japan, China, and even Europe. Exposure to these cultures through fairytales, children's books, and videos will be a delight for your young Capricorn.

Capricorn children may feel extremely empathic when forming relationships with peers although they may not always have the words to express the deep emotions they experience. Your support in connecting emotions with language will be vital to their development. Foundation and structure is essential to this sign. Young Capricorns will be conscious of their foundation from a young age. The best way to show your respect for your Capricorn child is through regularity and dependability.


---
Apr 25, 2008
Baby Journal: On the job training
See, I told you. Awake. Full blown awake, too. Not just wake up, roll over, and back to sleep. This will happen another four times tonight before I have to really get up and head off to work.

Nature's funny little way of preparing me for the job that lies ahead? Who knows.

All I know is that I may as well get a load of laundry done in the process.

Posted at 01:26 am by Candy
Permalink
Apr 23, 2008
Well, week six is officially underway! TMI, but important, no spotting or bleeding at all. Also on a good note, no nausea yet (woo!). The only symptom I have is that I am tired almost all the time. I also "wake up" much earlier than I used to. Around 5:30, my body is turning over and waking up, weird for me since I can usually sleep until noon if undisturbed. I'm also much more exhausted at the end of the day versus the beginning. I'm contemplating getting my workouts in earlier in the morning instead of the evenings, with the exception of my track workouts, of which I don't like being up there in the dark, by myself.
Anyway, thanks to www.babygaga.com, here is information on week six, both baby-wise, and mommy-wise:
Fetal development in pregnancy week 6:
This is going to be a busy week for your amazing little embryo. Their brain is still growing remarkably fast; miniature hand plates are starting to develop and the early formations of what will be their fingers are already visible. Also, the lower limbs do not develop quite as fast, so they're pretty much still flippers. Up until this point, your baby has been very curled up with the head and tail in close proximity, but this week their trunk and neck are beginning to grow and straighten as their tail recedes into its resting position in the back. Even though your little miracle is only 6 weeks old, they're already capable of demonstrating reflex responses to touch!


And how's mom doing?
It's official (grumble): if you're going to have morning sickness, you'll be feeling the unpleasant symptoms starting some time this week. If you don't, then chances are you're in the clear-- but don't blame us if we're wrong! There are always a handful of women who are officially morning-sickness late-bloomers with another week or two before the nausea sets in.
To lessen your symptoms, you're going to have to buckle down and focus on cleaning up your diet. Don't eat fatty foods, drink lots of fluids, eat several small meals throughout the day, take plenty of naps, and don't forget the prenatal vitamins!
There are several factors that can help you determine whether or not you you're one of the unlucky ones. If you are having twins (or more), or had morning sickness with an earlier pregnancy, or experienced nausea or vomiting with birth control pills, then you might expect to have morning sickness with this pregnancy. To lessen your symptoms, you're going to have to buckle down and focus on cleaning up your diet. Don't eat fatty foods, drink lots of fluids, eat several small meals throughout the day, take plenty of naps, and don't forget the prenatal vitamins! (Have you consulted with your doctor of nutritionist yet?) For those of you without morning sickness: don't dwell on it,you're just one of the lucky 20% of pregnant women who never actually experience morning sickness.
My food intake is going very well. It's very balanced nutrition, no junk food if at all possible (there was a bag of swedish gummy fish that I will offer no explanation for), and just loads of water. I have been drinking water like it is my job! I've also added a glass of 1% milk to my morning routine because I was told I wasn't drinking enough milk. I'm not a big milk fan. Haven't been since I was a teenager. So I'm trying to sneak in a glass a day, and try to bump it up as I move along.
Posted at 07:15 am by Candy
Permalink
Apr 21, 2008
Baby Journal: First Ultrasound & Belly Shot
It's a horrible scan, but you can still see the little bean in there. They dated the pregnancy today too. The official due date is December 17, 2008.
Say hello, world! That black dot over to the left is it at 0.364cm big (roughly the size of an apple seed). I have another ultrasound appointment in 2 weeks which will probably give off a better picture with more development. But either way, here's our little bean: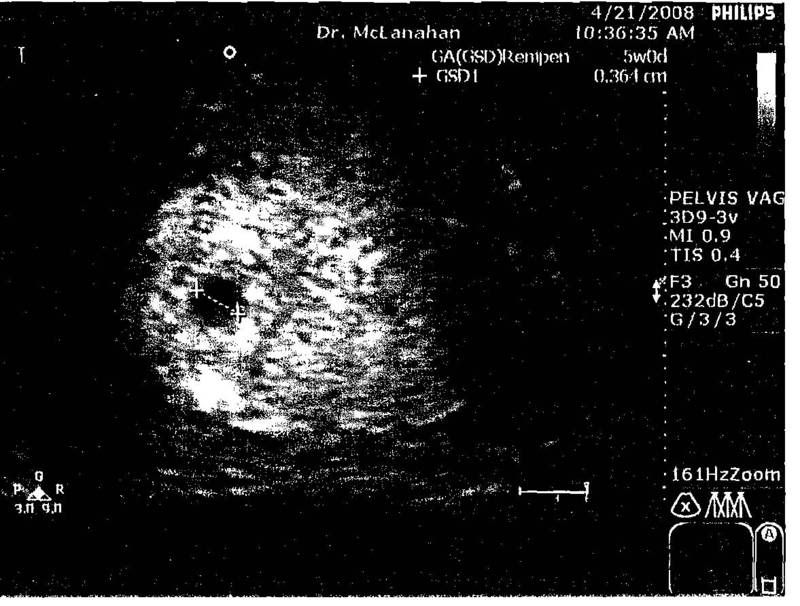 EDIT: I figured I'd also include a belly shot to go with these ultrasound pictures. I want to remember how I measured up on the outside with how the babe was growing on the inside. So here is my very not pregnant looking (yet!) belly:
Posted at 11:29 am by Candy
Permalink
Apr 20, 2008
Baby Journal: Welcome visitors!
Hello to first time readers! To those who do not know, Matt and I are expecting a baby! Since Monday, April 14, I have been here blogging about my pregnancy. I'm currently 5 weeks along by my best estimation. On Thursday, April 24, I'll have my first ultrasounds in hand and an official dating of the pregnancy.

The families were just notified this weekend, and as promised, this blog is now officially open to the public. (hi mom!)

Though dramatic at times, in my usual fashion, it will also serve as a hub of information to our friends and family. My other hope is to also have a detailed chronicle of the pregnancy of Matt and I's first child together.

If you would like to leave a few comments on any entry posted, then you will need to click the comments link below the entry. Once the comment window comes up, you may enter your name, your web address if applicable, and your comment. Click submit, and be sure to verify the random letters generator, and your comment will be attached to this entry for all time. If you just want to say 'hi' or a quick word or two, then you may also leave a tag on the tag board to the left. Web addresses are not necessary, so if you don't have one, you're welcome to leave them blank.

Under the tag board, there is a calendar. All dates that are hyperlinked have an entry done on that day. All entries are listed in reverse chronological order, with the first entry happening on April 14, 2008. To go back through the archives if it is beyond April 2008, the arrows on either side of the month with allow you to scroll back to whichever month you are looking for.

There are also permalinks below each entry, so you may save the link, and it will take you right back to that specific entry.

Lastly, my email is always available at cyoung2110 at gmail dot com if you need anything, and for those who have it, my phone is always on.

So, welcome welcome welcome, and thank you for all of your well wishes for the three of us. I hope you find this blog informative, entertaining, and at times, insightful. It means the world to us to know that our child is coming into the world with such supportive friends and family.

Posted at 10:03 pm by Candy
Permalink
Apr 18, 2008
Baby Journal: Fitness Prospect
Since finding out I was pregnant, I was cleared to run and keep up my fitness routine since I had been doing it for so long before we actually conceived. The only thing that had to change was going from a High Intensity Training (HIT) Center Boot Camp twice a week to getting back to the boring old gym for boring old work outs twice a week.
Honestly, and this is going to sound bad, weight gain terrifies me. I have worked for over a year and a half to lose about 45 pounds. I wanted to lose 60 total, but the last 15 just didn't come off before I managed to get knocked up. So having to come to grips with putting on 25 to 30 pounds just puts a knot in my tail. I know, I know, most of it is baby, placenta, ect ect. It doesn't make it any easier.
In an attempt to keep my weight under control through this process, and to maintain the flexibility, as well as the muscle tone that I built up, I contacted the trusty folks over at the HIT center and inquired if they offer a pregnancy program. I have been with them and their Boot Camp since June of last year. They helped get me in shape to run my first 5k, and many many races beyond it, as well as drop 15 pounds. They helped me see a size 6, and my toes again. I trust no one more than this fine group of trainers and athletes when it comes to my physical well being and fitness.
And in total awesomeness, I recieved a return email from Mel this morning:
"
Yes we do have a pregnancy program. We also have a Post partum program for after the baby comes. Most doctors will tell you what you can and can't do. It also depends on the Trimesters that you are in to determine the intensity. The intensity will definetly not be as intense as you may be used to, but you have to understand you are providing for two, not just one. In terms of Heart Rate, our guidelines state not to go over 130bpm for the cardio. So therefore you will be constantly moving the whole hour because you can get your heart rate as high. You will continue to work on your strength and core as well. As you get in your last trimester, your body's ligaments are loose (which means not as stable) for childbirth so we will adjust accordingly.
We can take care of you. I do recommend talking with your doctor first and then before you schedule in the HIT Center give me a call. It is important to get the same trainer on this matter."
What great news!! It was rather sweet to talk to Mel again about my pending fitness. She was the one who convinced me that after my not-so-stellar individual training session (read: ass kicking) that I can do the Boot Camp course easily. It wasn't as easy as she said it was, but it became easier. Every notch they took it up, I overcame it, and have come out the other side in great shape.
For them to have a maternity program is just amazing to me. And for her to say we can take care of you, just made me tear up a bit. I trust them. Not only with my well being, but the well being of the babe as well. If the price isn't too ridiculous, then this pregnancy is going to rock out. I will be able to hand down my emphasis on health and fitness (not a warped body image of having to be skinny at all costs) to my child. And I'm lucky enough to be able to keep going now versus just starting out.
Posted at 12:41 pm by Candy
Permalink
Apr 16, 2008
Baby Journal: Blood work results...
I had blood work drawn this afternoon... results are in!

It's official! Beyond a shadow I'm pregnant!

8 more days and we'll have ultrasounds done.... :)

Posted at 12:42 pm by Candy
Permalink
Baby Journal: Living up these first weeks...
So I don't really
feel
very pregnant right now. I'm eating as best I can, and the only thing that is noticeable is that I get tired a little easier now than I did. And that I
have
to have breakfast.
I went to the gym last night and ran a mile and a half. Granted, I won't be breaking any distance and speed records any time soon, but it was really nice to just run along on a treadmill. The soft landings were quite nice. I lifted a little, did a little bit of ab work, just so I don't get too squishy through this process.
As I was running, I'd talk to the baby. "Come on little Bean... a little longer to go. Healthy hearts Baby Bean, healthy hearts." I can tell you though, a mile and a half was all that was in the tank. I hopped off, realizing I could have gone further, but I have a track workout this afternoon, but I was satisfied.
I'm also trying to eat as well as I can. I figure the better I eat, the better I'll feel and look, as well as the health of the babe. I really don't want to be one of those women who get super huge in their pregnancies, especially since I have worked so hard to get in shape. But to be honest, as my father in law said, all of that work was training leading up to the biggest endurance event I'll face. I like that analogy.
I went to the book store last night too to get another pregnancy book, in particular on fitness and nutrition. Nutrition books abound!! Loads of those. Fitness books?? None to be found. So I'll have to research the web and talk to my former trainers at the HIT center to see what I can be doing (and what I shouldn't be doing). I'm cleared for most everything, including running, so that is a big relief.
I also grabbed up some folic acid and fish oil, as I'm not getting enough in my daily diet, and my aversion to orange juice at the moment is pretty strong.
I'm just happy to not be sick so far. Though, I have heard horror stories of women who were not sick, only to find out the embryo never developed. I'm just taking it easy in my workouts (still enough to break a sweat, not enough to be exhausted. Just a good 30-45 minutes in the gym and on the track four nights a week.), and I'm watching what I eat. It's about all I can do right now. Oh, and just be happy to not be sick. Yet.
I was assured that that was coming down the pipe next.
Posted at 08:06 am by Candy
Permalink
Apr 15, 2008
Taken out of context of an email to a friend, but here is how I told Matt the news:
Well, I told him last night in between work and going to school. He was sooo cute. He walked in the door and I said, hey I got something for you today. He got all excited thinking it was some sort of "you're an awesome hubby" card, lol.
I gave him a card that I wrote up. On the front it said "On next year's taxes, you might want to itemize..." and on the inside "because we're going to have quite a "little deduction". I <3 you!". His eyes got really really big, and he said "what are you telling me.... are you serious?? Are you pregnant?? Lemme see the stick!"

So I showed him and he said "omg. I have to sit down." He had a big grin on his face, but he was so shocked/surprised and scared, his eyes said it all. I picked up a pair of little baby boy sandals at Target and a father-to-be guide book (it had cartoons in it, so I figured he might read it eventually) and gave him both of those as well.
He was so adorable. He babbled on and on, and was in a big state of shock the whole time he was in the shower getting ready for class. "Is it a boy?? How can we guarantee it'll be a boy? It's mine, right?? (no, it's Duke's, lmao) I wish I would have known that that was going to be the time that would take, I would have done a few things to make sure it was a boy."
He left and immediately after he got out of the shower – nearly forgetting his belt and jacket - and called his best friend and his brother so he wouldn't explode. He cut class early because his head sooo wasn't in it. He called me on the way back saying "get dressed, we're going to go out to eat, you and me to celebrate." He came back home and declared that he needed to talk to his dad, and I said, okay, I didn't want to tell family until we had ultrasounds in hand, but let's go together and tell them. And we'll go eat.
We got there, and I had them both sit down and close their eyes. I put one of the sandals in each of their hands and when they opened them, there was much screaming and squealing. They are so excited to be grandparents. They got the hint immediately!
Matt held my hand the whole way home.
Posted at 08:01 am by Candy
Permalink
Apr 14, 2008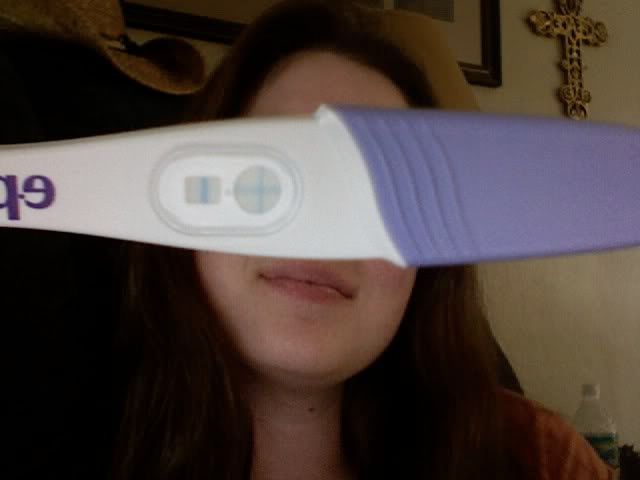 Yep! That's two blue lines you see up there!
I just found out today that I'm pregnant. I went to bed last night feeling very dizzy. After Saturday's crappy race (I was tired, I was hungry and wanted to throw up, just generally not my race self), I just figured that I hadn't recovered, or just was a result of not eating right.

Last night, sleeping was a mess. I woke up dizzy, like the room was spinning, several times, and had just a rough night of it in general. I got up when Matt did this morning because I had two doctor's appointments to tend to today. Matt saw that I was feeling less than stellar this morning. I told him I was still feeling dizzy for some reason. He joked and said he hoped I wasn't pregnant.

After he left, I looked into my everything pregnancy book, and started going over some symptoms. I had taken a test three days ago, and it was negative, so it didn't urge me right away to go pee on the stick. No where in there did it say dizziness.

I figured, why not. It would explain a lot. So I grabbed a cup, peed, and tested.

All of the sudden, there was a line that had never once appeared before.

I called my best friend and left her and urgent voicemail to call me, then called my doctor's office to cram in a last minute lunch appointment so they could verify everything.

After squealing on the phone with Jess, I left the house to run all of my errands. First stop optometrist. More squealing, no dialating of the eyes this go around (bad for baby).

Second stop, Publix to grab a sandwich, some cold water, and some fruit to recharge before I fainted. I grabbed orange juice too, but quickly learned that I have an aversion to it. Over to OB/GYN.

I sat and waited, sat and waited, sat and waited. My docter, half an hour later, flew out the door for an emergency delivery at Memorial Hospital. Leaving me with the choice of rescheduling (ummm, no.), or waiting for a PA and tech to see me (fine. I had never met my doc anyway and always dealt with the PA's, so no biggie).

Wait wait wait. Pee in another cup, they confirm it's indeed positive. But if my date of my last period is correct, 3/11, then it's going to be way too early to see anything on the ultrasound. Still though, confirmed!!!

They drew some blood to have it ran, then took an ultrasound, where nope, no peanut yet. Still way to early to see. She said it's a rare chance, but there is still a chance, that it might be a chemical pregnancy, where my body has fooled itself into thinking it's pregnant and thus exhibits all symptoms, sans baby. So I'm going again in two days, more blood, and again in 10 days, another ultrasound.

But still!!!!! OMG!!! I'm so excited. Matt has no idea. Only you and Jessica know. So shhhhhhhh, no squealing. But you know my email address :-) Finally. The time has come, and now, my other friend won't be pregnant alone. Hooray! It totally worked out for the best. I probably won't even tell our families until I get the first ultrasounds back (of which, I'll obnoxiously post). This blog can finally be what it was always meant to be in the first place.... life and plans.

Now I'm off to clean the house before Matt turns up, and to get my stuff ready to go back to work tomorrow.

Posted at 04:35 pm by Candy
Permalink